Click on images to enlarge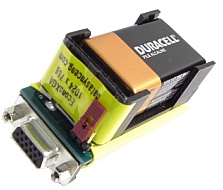 ALSO AVAILABLE !
EconoVGA Tester & Exerciser


Enhanced VGA-Plus model
with built-in battery holder
VGA, SVGA, XGA & VESA
Res: 640x480 to 1280x1024
Download User Manual HERE
| | |
| --- | --- |
| Manufacturer | Data Sync Engineering |
| Model | Econo Series Tester |
| | < Choose Model |
EconoXGA 1024x768 Monitor & Projector Tester

"Same performance as our VGA-SE10 but has a built-in battery holder"

Awesome For Setting Up Video Presentation Equipment !!!
This is our limited, Special Model, EconoXGA computer monitor tester designed for on-site testing and aligning of computer monitors and video projectors without the need of a computer. The EconoXGA provides 23 selectable display patterns at the 1024 x 768 video resolution commonly used with XGA projection systems. The EconoXGA will test for Bad Pixels, Color Wheel Operation, Blank Raster, Convergence, Linearity, Color Balance, Screen Alignment and Interconnecting Cable Quality. The tester is equipped with a 15-pin high-density female D-Sub connector and 9-volt battery holder. The unit measures 2.60" x 1.25" x 1.40" and offers a selectable "Auto-On" (powered-on when connected to the cable) or "Always-On" operation.


Switch Selectable Display Patterns

Red Screen

Green Screen







Blue Screen








White Screen








Blank Raster








White Outline Border








Cyan Screen








Magenta Screen








Yellow Screen








Color Bar 1








Color Bar 2








Gray, White & Black Box




















Next 5 patterns use a White Grid & Focus
Corners on a background screen color of ...


1) Black
2) Red
3) Green
4) Blue
5) Gray



















Next 5 patterns use a Black Grid & Focus
Corners on a background screen color of ...


1) White
2) Cyan
3) Magenta
4) Yellow
5) Gray







Mixed Colors / White Grid

Want to know more about the EconoXGA Tester ?


Download a copy of the Operation Manual
(in PDF format)


You can get your free PDF reader here